Find: Games - Movies - Music - Free Stuff! - Electronics - Computers
MidiLand S4 8200 Speaker Review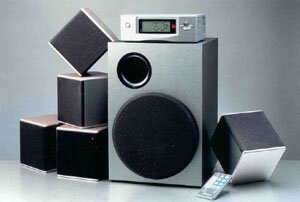 A console as powerful as the PS2 deserves to have peripherals that take full advantage of its abilities. Shortly after launch, we highlighted the best visual experience you could have via Monster Cable's Gamelink 300 S-Video Cable. Now a few months have passed and hopefully some of us have started saving money again. Then comes the next question: How can I optimize my aural experience? The Playstation 2 supports Dolby Digital Sound and DTS. The only way to take advantage of this technology is to use a component 5.1 surround sound system. Most games support the format and several companies have come to the market with systems produced especially for the PS2. A surround system is also necessary for those wanting to take full advantage of PS2's DVD capabilities. While there are a couple of systems available on the market, they do nothing more than fill a tiny bedroom with some noise. If you are low on finances, I suppose they will suffice. However, for those people like me who demand the most bangs for their buck, there is something quite tasty indeed available. After a lengthy research process I stumbled upon a company called MidiLand and their S4 8200 speaker series. Now where was I going to find this interesting product in Canada? Finding what I was looking for was made easy by the fine folks over at Deals Direct.
MidiLand? Who are they? I asked myself the same question as I set out around the finer HI-FI shops in Toronto, only to have sales people laugh in my face because they had never heard of MidiLand. I started to wonder what I was really looking at. However, further research demonstrated that MidiLand was growing in mass popularity in the U.S. for their well-developed speaker systems. Apparently, the story goes that MidiLand was founded over a decade ago with main manufacturing plants found in Taiwan. Fast forward to 2001 and Midiland is listed ISO-9002 with manufacturing sites located around the world. The company's warehouses are located in California, New Jersey, The Netherlands, Taiwan and China. Sounds good. Onto the speakers in question.
The S4 MidiLand 8200 is a full home surround system. At 200 watts, 100 watts dedicated to the sub; this 8 piece 5.1-surround system is a monster that even rivals some of the mid-range home theater set-ups. The 8200's were designed for PCs but actually complement the Playstation 2 more nicely from a functional standpoint. Before I go into how the system sounds, let us go over the specifications for the true audiophiles out there.
System Components: 6.5" Subwoofer Driver, 5 3" Full Range Satellite Drivers
Power: 20 watts (RMS) per satellite speaker @ 8 Ohms, 100 watts (RMS) for the subwoofer @ 8 Ohms
Frequency Response: Satellite 70Hz-20Hz +/- 3dB, Subwoofer 40 Hz-500Hz +/- 3dB
Signal to Noise Ratio: Satellites 92dB +/- 3dB, Subwoofer 105 dB +/- 3dB
Inputs: Digital: Coaxial and Optical, Analog: single stereo input
Dimensions:
7.10" x 2.40" x 5.30" Decoder
3.40" x 0.30" x 1.60" Remote Control
4.61" x 4.72" x 4.53" Satellite
11.30" x 13.20" x 10.15" Subwoofer with wood enclosure

Yeah, that looks nice but what do they do for me? Simply put, they rock my world and walls! I set it up using the PS2's optical cable capabilities to the brains of the 8200s, the Audio Digital Station (ADS-2000). To give you a more accurate picture of the setting, I put this set-up into a 20-foot by 12-foot room. What amazes me is how warm they sound and the intense power of the subwoofer. MidiLand has done an admirable job blending the subwoofer with the satellites. The satellites provide more than enough drive to hear all of the subtleties found in the most demanding Dolby Digital movies and games currently available. Perhaps in future incarnations, MidiLand could develop a satellite with a separate tweeter to even enhance the highs. What really sets this system apart from the competition is the how the subwoofer fits into the scheme of things. The subwoofer is one of those things that you must hear to truly believe. After going through the rescue sequence in The Matrix, I was dumbfounded to figure out how so much bass could come from something so small. It quickly became apparent that MidiLand has done their homework and has carefully engineered the subwoofer with utmost precision and craftsmanship. MidiLand built the subwoofer with MDF (Mass Density Fibreboard) which houses the drivers in a tight configuration without any unwanted noise that is caused by cheap plastic design. I continued to be amazed with a slew of DVD titles including The Matrix, Blade, U-571, Gladiator, Armageddon and The Rock. Nevertheless, what about games? I put in Onimusha, Zone of the Enders and was really blown away by the tantalizing Metal Gear Solid 2 demo. The 8200s definitely bring your PS2 playing to an all new level and environment. Even regular CDs sounded quite impressive. I cannot wait to try out MTV's Sound Generator and Ubi Soft's project with U.K. recording giant Ministry of Sound.
This entire splendor is accomplished with the ADS-2000 (Audio Digital Station). Included is a compact front-panel LCD for letting you see all of the unit's capable functions. Using the included credit card sized remote control; you can fully customize your listening environment. This includes individual speaker volume control, balance level control and delay timings. The Dolby Digital decoder chip in the ADS-2000 is courtesy of industry veteran Zoran. This decoder allows you to alternate between stereo, Dolby Pro Logic and AC-3 Dolby Digital decoding. With the PS2 hooked up, the ADS-2000 automatically detects the source. Play a DVD and it switches to AC-3 mode. Put in most PS2 games and you can choose from Stereo or Pro Logic. Sadly, DTS is missing, but most DVDs today and many upcoming PS2 titles are Dolby Digital. While many similar products house the subwoofer with the decoder, MidiLand has again thought ahead in separating the two. The result is an integrated crossover network that sends frequencies below 200Hz to the sub and above 200Hz to the satellites.
Installation of the 8200s is a mixed bag. While most people will have the system set-up within 20 minutes, it does take some experimentation to tweak everything into place. Getting the right balance and especially rear delay will take some time but it is well worth it once you are set up. MidiLand has included 16-gauge speaker wire for optimal performance. All of the speakers hook into the back of the subwoofer that in turn is connected to the ADS-2000. The subwoofer itself has two volume controls, one for the sub and the other for the satellites. Trying to find a happy balance between volume settings on the rear of the sub and the ADS-2000 can prove tricky. If the subwoofer is kept in an easy accessible area, things should not be a problem. Another nice option is the ability to mount either your front or rear left and right speakers. This is possible through the MidiLand MK-01, which serves as a handy, space-saving wall mounting kit specially designed for use with the satellite speakers. They are quite functional as they allow the user to tailor make their listening environment. Thanks to a swivel design, you can point the speakers directly towards you or away from your immediate seating position. The MK-01s are highly durable thanks to Platallic being used in its Back Plate and Molded Nut, ensuring weight up to 10 lbs. They were quite easy to install and did not look intrusive like many speaker stands or wall mounts currently available on the market. Once installed, you simply screw the back of the satellite onto the MK-01. The satellites already have a screw hole pre-made into their design. An added bonus at this time is that MidiLand is offering the MK-01s free of charge minus shipping and handling. Head here for more information on this offer.
Pros
The S4 MidiLand 8200 is a very nice sounding and well-rounded system. There is excellent bass response and great sounding mids. The included Dolby Digital 5.1 Decoder complements the PS2 nicely. The whole package has been compactly designed and will fit into any decor nicely. They have a silver and gray color with a hint of purple. It may sound out of date with current fashion trends, but they surprisingly go just about anywhere. Do not forget the fully functional remote, which allows you to kick back on your couch as you prepare to blow away your guests. Lastly, the MK-01 mounting brackets are easy to install and allow customized speaker set-up, not to mention are free at this time with the purchase of the S4 8200.
Cons
There are no tweeters in the satellites, which can be slightly problematic for extreme highs. While the sub boasts an impressive 100 watts (RMS), the satellites only provide 20 watts (RMS). While this is not bad, some more juice in the satellites, especially in the front channel, would provide even a further range of multi-media configurations in your home. Although the absent DTS is not a major loss, it would be nice to see it added to the next upgrade in the ADS-2000. So would additional inputs on the rear of the ADS-2000. I am sure I will want to hook up some other consoles in the future. Another optical input would suffice. While the MK-01 mounting kit is a nice option, dedicated stands for the system would be beneficial. Unfortunately, the price tag will scare some people away. We found Deals Direct quite reasonable, as they would ship in Canada and the U.S. Nevertheless, keep in mind, they are a solid addition to your Playstation 2 without having to go into separate receivers, surround speakers, and subs which will take you well over the $1000 mark.
Final Word
I set out to find a compact set of kick ass speakers in order to optimize my Playstation 2 gaming and DVD experience. Without a doubt, I have found them in the S4 MidiLand 8200 series. With other systems, you usually have to make a compromise with sound quality to get all of the extra features. This is not the case with the 8200s. No these speakers are not the best on the planet, but their value and quality are high. A sure buy these days are far and few between. The 8200's are one of those rare sure purchases. Enjoy!
Functionality: 10
Value: 10
Features: 9
Overall Score: 9
By Mike Weatherup.