Find: Games - Movies - Music - Free Stuff! - Electronics - Computers

Reader's top psx picks 25-18
Games you should've already played by now
by: Aaron "Bearsfan" Thomas

Two weeks ago, we here at Playstation2 Central asked for our readers to let us know what their favorite games were. The response was overwhelming, as readers flooded my mailbox with not only their votes, but also reasons why their game is #1. 82 games received a total of 1,331 of your votes, and the results will all be revealed to you in three parts. You may notice that some games are added together as series, this was done to have a wider variety of games in the top 25. In some series, each game stands alone and people have clear reasons why each game is their favorite. In other series, like Crash or Wipeout the votes would get scattered throughout the sequels, and the series would not be represented fairly, so I added them together. For those of you who aren't rocket scientists, the ranking is on the left, followed by the title, and in parentheses, the number of votes recieved.

Here we have games 25-18 of the reader's top 25 list. If you have not played any of these games, and you are a fan of genre a game is in, you would do well to rent it and check it out. I've also included some of your opinions, and when there were no reader thoughts available, I posted a few of my own. If you don't see your game here, it either, didn't make the top 25 or they are in the top ten.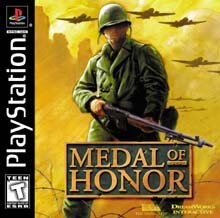 25. Medal of Honor (14)
WWII:June 5th, 1944, the day before D-Day You are an elite Special Forces agent sent to execute covert operations, search and rescue missions, and commando raids in the game that lets you take on Nazis in WWII. Not an enviable position to be in, but it's only a videogame and you guys loved it.
Franco says: Medal of Honor is my choice because it didn't suck. Seriously though, when I was playing it, I found myself totally immersed in the game. The realism and the sound effects made me feel like I was there.
24. Wipeout Series (15)


Speed is what this series has always been about. Racing around detailed tracks, knocking off opponents, all while cruising at breakneck speeds. Wipeout is not just a distant memory either, the series is still going strong with the upcoming Wipeout Fusion coming to the Playstation2.
Patrick-Michel Dagenais says: "Wipeout 1 was great, and Wipeout 2 was even better. This was not just a graphics show, it was the reason why 3D consoles where invented - to make you live experiences and games that could normally not be possible in the real life. This racer is deep, futuristic and although it's not an original idea, it's by far the best execution of it. The fact that most of the songs on the soundtrack where big hits AFTERWARDS just helped the overall imaged of games as well. After Wipeout 2, a game that had stunning and hypnotic graphics which gameplay that everyone, especially mature players, appreciated and the " la mode" soundtrack, it seems that playing videogames was not just for dweebs anymore."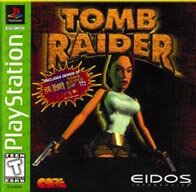 23. Tomb Raider Series (15)
Tomb Raider was one of the Playstation's first mega hits. Playing as the busty Lara Croft, gamers explored caves, temples, tombs, and even had encounters with a T-Rex. Although the series has gotten a bit stale lately, Eidos is bringing Lara to the PS2 with an all new look, and hopefully an all new game engine.
What I think: "The first Tomb Raider is one of my favorite games for the psx. I played this not long after I had beaten Resident Evil, and I was looking forward to a similar experience. While certainly not as tense and pressure packed, it got the adrenaline flowing, and I had a great time playing it. Ever since the second game, the series has limped on with pointless updates year after year. Despite this I have high hopes for Lara's upcoming PS2 journey.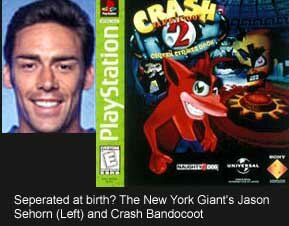 22. Crash Bandicoot Series (17)
One of those rare series that seems to get better with age, Crash and his pals are still going strong. One of last great platformers, Crash combined 2D and 3D gameplay flawlessly into one big adventure.
My drunken friend SeanA says: "I like the cute characters. I'm stressed out I can't think about it right now. It has superior game play and the challenge of different bosses. Make this sound as queer as possible"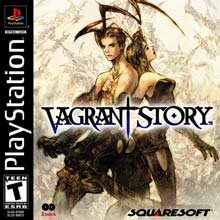 21. Vagrant Story (17)
Although this RPG received less than stellar reviews, you voted Vagrant Story the 20th best Playstation. Is it the real-time combat, the fact that it is still fresh in your minds, or the game's witty commercial that make this game so popular? I guess everyone was too busy playing to answer because nobody wrote in with a comment for this game, so the world may never know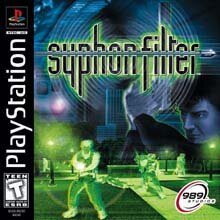 20. Syphon Filter Series (17)
Syphon Filter was a game that upon first look, was compared unfavorably to Metal Gear Solid. Once gamers picked this game up, it seemed they had a tough time putting it back down. The success of the original spawned a sequel, which received a few votes for the top 25 in its own right. Syphon Filter2 also had a really funny commercial, which I'm sure many of you remember.
What I say: "Nobody wrote in proclaiming their love for this title, so I figured I might as well ramble on here. I only played this game once, on a demo disc. I got killed many times, but I had a good time doing it."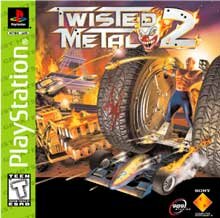 19. Twisted Metal 2 (17)
One of the few two-player games to bully its way into the top 25 is Twisted Metal2. Hands down the best game in the series, none of the other metals got a vote. Taking the over the top gameplay of the first title, and cranking it up a few notches Twisted Metal ensured the series a spot in the hearts of gamers hearts everywhere. Like so many psx titles, the series' glory has faded, as it looks towards rebirth on the Playstation2
Jason McNabb writes: "Twisted Metal 2, while not the best in the graphics department, was by far one of the most addictive games I ever played to date. There was just something incredibly fulfilling about speeding through the streets of Hong Kong and Paris while blasting the hell out of your friends as you pass. I think I still have shrapnel in my ass from some of those duels."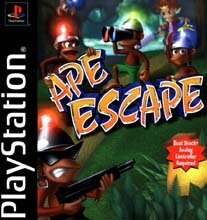 18. Ape Escape (21)
The first game to make use of the Dualshock's analog stick, this game was dismissed by many as a quirky platform game. Who could blame them? Monkeys with flashlights on their heads certainly qualifies as "quirky" those who spent enough time with this game found it an experience they wouldn't soon forget, and they voted it #18
Shawn Fogarty says: "I've never played it before, but I want to. In school we had a friend that played it, and we made fun of him. We called him 'Shaved Ape'."
See games 17-11 right here. Go ahead click, I dare ya.